About Us
Clear Choices Clean Water® is a program designed to increase awareness about the choices we make and the impacts they have on our streams, rivers, lakes, and reservoirs. After all, this is our drinking water, the water we play in, and a vital part of nature's ecosystems. Water-friendly practices help to protect our precious water resources. By educating individuals about everyday actions and giving them the tools needed to make behavior changes, Clear Choices Clean Water empowers everyone to do their part for water quality and conservation.
Our mission is to inspire widespread

behavior change

that reduces water pollution and protects water supplies.
While this effort started as a partnership between two watershed organizations in Indiana in 2010, it has now grown to multiple locations around the country. Since we all face the same common water concerns, there's no need to reinvent the wheel when it comes to public outreach. Clear Choices Clean Water can be implemented in any community! All you need to do is contact us and learn how you can bring this fun, interactive program to your community.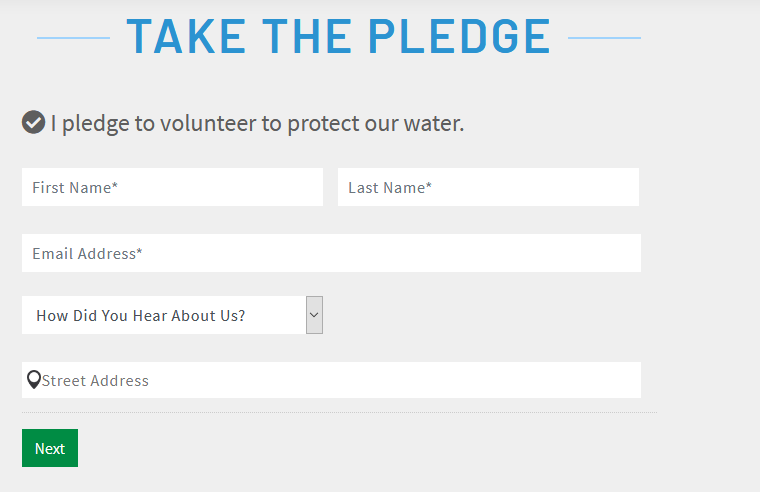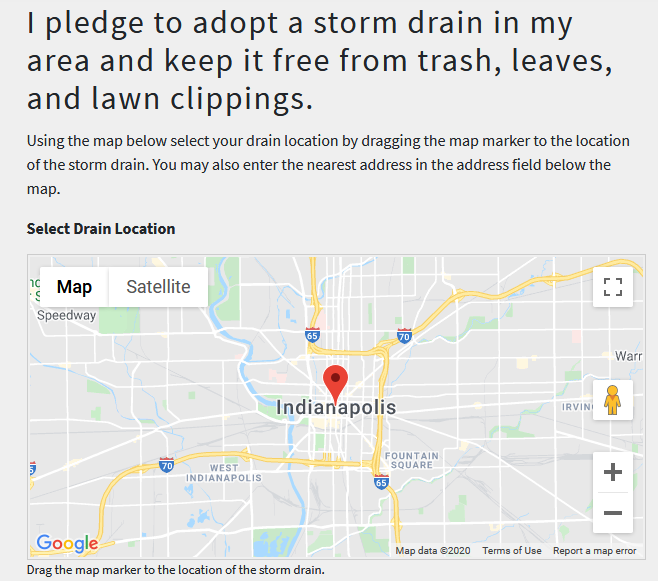 How It Works
The focal point of the program is a unique, interactive website that is supported by complementary outreach resources and built-in viral marketing elements. An action-oriented pledge platform provides website users with immediate personalized data about the positive impacts a specific action(s) has made for our waters. Pledges are also 'put on the map' via a push pin marker that helps the pledge taker visualize how their action pledge, alongside thousands of others, will protect water resources in their watershed. These two outcomes help people comprehend exactly how they made a difference (e.g. pollution load reduced or gallons of water saved) and allow them to feel part of something bigger, something socially relevant, something transformative.
Try It! Take A Pledge!
The best way to understand our efforts is to TAKE A PLEDGE – try any of the action pledge options below! You'll be able to see the type of outputs pledge takers receive, experience the auto-email reminders, get a chance to share your pledge to social media, and invite a friend to pledge too!
If you'd like to see how the pledges appear on a watershed-based map, visit our visit our Indiana Affiliate map as an example.
Leverage Our Experience
Clear Choices Clean Water is founded on university-directed research, high-quality materials and resources, and social marketing best practices. Through partnerships, multimedia resources, and real-time environmental impact measurements, we educate citizens and foster personal engagement in water resource protection.
PERSONALIZE IMPACTS
+ Measure how much pollution individuals' actions have prevented from entering our waterways.
+ Show how these actions are connected on an interactive watershed map.
+ Maximize personal influence through friend challenges and social media shares.
HIGH QUALITY MATERIALS*
+ Access an ever growing library of customizable professionally designed, fun multimedia resources.
+ Avoid reinventing common content.
+ Customize outreach resources that can be used immediately.
*These materials can be logoed and co-branded by Clear Choices Affiliates and partner organizations. Check out some of our resources in our online store.
SOCIAL MARKETING
+ Conduct your own social indicator surveys to help inform your own program or leverage lessons learned from our years of surveys.
+ Understand how to tailor messages that speak to different peoples' values.
+ Identify creative and impactful delivery mechanisms to reach target audiences.
Be an Affiliate
Clear Choices Clean Water is a nationally-award-winning program available to any community. An Affiliate is a licensed user of the Clear Choices brand and its associated products and services. By entering into a license agreement with Clear Choices Clean Water LLC, you can have your own Clear Choices Clean Water customized program complete with a unique website URL, local watersheds maps, and reference resources tailored to your region. Affiliates will have access to the variety of existing Clear Choices materials as well as any related materials developed during their license period. These collateral materials can be branded with your logo and adjusted to include local content or photos.

Affiliates administer their own Clear Choices website and are able to develop additional pledge campaigns and associated supporting resources for use under the Clear Choices brand. Similarly, Affiliates are also able to develop their own sponsorship and/or partners opportunities within their program for revenue generation. Clear Choices staff is available for consultation or help with website administration and/or the development of customized materials or various program elements. Learn more, contact us!
Current National Affiliates


Waterkeepers Chesapeake

City of Cape Girardeau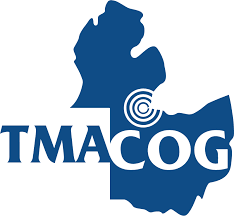 Greater Toledo Lake Erie
BILLION BACTERIA PREVENTED
ACRES of NATIVE PLANTINGS